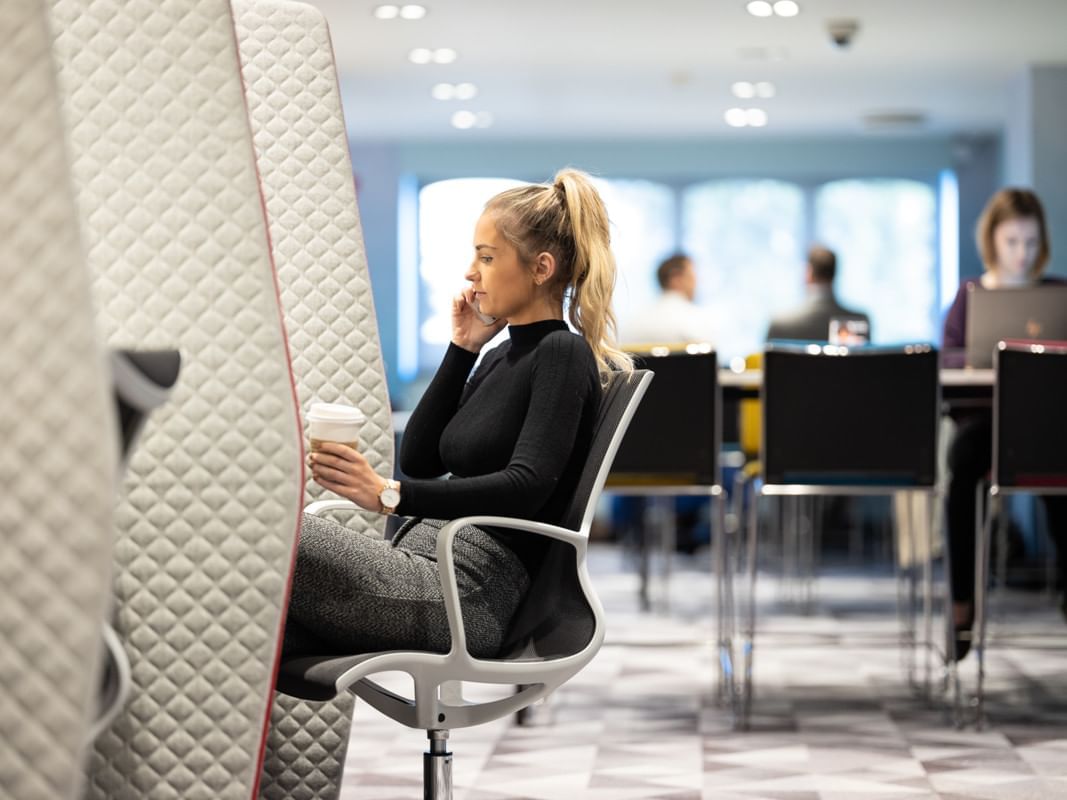 ACCESSING VWORKS
Our VWorks spaces have a secured entry point, therefore you'll need your membership card to access your new work area. If you've not got your card yet, you can collect this from the hotel reception on your first visit. National VWorks members can access any of our sites around the UK—that's 20 locations only a drive away, with a hot desk and VWorks facilities available for you to use, any time you wish. For members with a fixed home-base (single location), discounted day passes can be purchased from £12.50 per person, per day, once you have used your monthly guest passes.
OPENING TIMES
As standard, VWorks is open 7am—8pm Monday to Friday, however opening times may vary at some sites. VWorks in Portsmouth and Bristol shuts at 5pm on a Friday.
Wi-Fi
VWorks Wi-Fi is fast & secure! To connect, select the "Village VWorks Secure Wi-Fi" network. This network is password protected.
The current password is: [HappyM33tings]—Please note: this password will change from time to time
PRINTING SERVICES
Every VWorks site has a printer available for members to print, scan, and copy documents. Please be aware that this is a public printer, therefore we would recommend that you don't print confidential files using this service. To print, simply email your attachment to the dedicated email address displayed by the printer in VWorks.
REFRESHMENTS
Members have a variety of options when it comes to keeping refuelled. Every VWorks has a shared kitchen area, where complementary hot drinks and water are available, plus, a sink, fridge, and bin. Members are welcome to bring in their own food and drinks, making use of these facilities or purchase food from any of our outlets—including an on-site Starbucks, and cool Pub & Grill.
PARKING
A digital parking system is in operation at Village Hotels, with parking chargeable after 4 hours. VWorks members can enjoy complimentary parking, to benefit from this please register your car details with a member of the team at the front desk. Providing you bring the same car, this does not need to be done on every visit to the hotel.
LOST MEMBERSHIP CARDS
If you lose or misplace your membership card, contact your home base hotel, as soon as possible, and we can arrange for another to be ready to be collected on your next visit.
CODE OF CONDUCT
Please remember that VWorks is a public space. We'd ask that all members are courteous to other users, in particular regarding noise levels. Whilst it is not mandatory, we recommend the use of earphones for conference calls.
Violence, antisocial or disruptive behaviour of any kind to other members and guests, or our team members, will not be tolerated and may result in us terminating your membership.
Members should not permit anyone other than themselves into VWorks. All guests should register at the front desk on arrival at the hotel and have a valid guest pass.
Members are not permitted to use the meeting pods without permission from a member of the Village team. All meeting rooms and pods should be vacated at the agreed time.
YOUR VWORKS MEMBER BENEFITS
HEALTHY BODY_ HEALTHY MIND.
Achieve the perfect work/life balance with a combined VWorks and Village Health & Wellness membership.
Achieve the perfect work/life balance with a combined VWorks and Village Health & Wellness membership.