Arrival & Departure
Become a member to get the discounts
Welcome to your new remote office. The way we do business has changed. VWorks Coworking spaces are ideal for flexible workers. Our convenient locations across the UK mean you can work on the road or closer to home, with hot desks and private meeting spaces and the tech you need to get things done, ensuring you have a productive day at the office wherever you are. Complimentary refreshments will keep you energised and our flexible memberships and day passes mean there's a VWorks option that works for you whatever your needs.
BLACK FRIDAY: 50% OFF CO-WORKING IN DEC & JAN & 4 FREE GUEST PASSES WORTH £100
Sign up for a VWorks co-working space membership now and receive 50% off Dec-23 AND Jan-24 plus, recieve four free guest passes worth £100!
Sign up for a VWorks co-working space membership now and receive 50% off Dec-23 AND Jan-24 plus, recieve four free guest passes worth £100!
WORK
SPACES
Hot desks & fixed desks at 21 locations across the UK*
Total flexibility to suit your changing requirements - choose a fixed base or hot desk at any location, long or short term.
Stylish meeting & training rooms, with the tech you need to get things done
Local, regional and national membership options. *Only national members can access all 21 sites.
VWorks coworking is the Business. See for Yourself
MEMBER
BENEFITS
AS WELL AS A COOL WORKSPACE, VWORKS MEMBERS GET ALL THIS:
Complimentary tea, coffee & water
Free secure WIFI
Free parking
Printing, scanning & copy facilities
25% discount in the Pub & Grill*
20% discount off meeting room hire
10% discount off accommodation
Access to the VWorks Network online community
Membership Types
VWorks - Standard
Enjoy full access to your chosen VWorks location (single location) and member benefits.
VWorks members enjoy a 10% discount on food and beverage.
National
National membership gives you access to any of our VWorks sites across the UK - that's 21 across the UK and growing. VWorks also has a regional membership if you need multiple locations within a smaller geographic area to work from.
Platinum
For the ultimate Village package go Platinum! Work your mind and body with a VWorks membership combined with full membership of Village Health and Wellness Club. Platinum members get full use of the gym, pool & fitness classes at a single, home based location - along with 25% off food and beverage at Village
Corporate
Interested in membership for your team? Talk to us about corporate membership options - available at a single home-base location, regionally or nationally.
VWorks Member Appreciation Week
A thank you to our members for their continued support.
5 days of treats; from free Starbucks and cake to Fizz and Chips. Take a look at what we got up to!
A thank you to our members for their continued support.
5 days of treats; from free Starbucks and cake to Fizz and Chips. Take a look at what we got up to!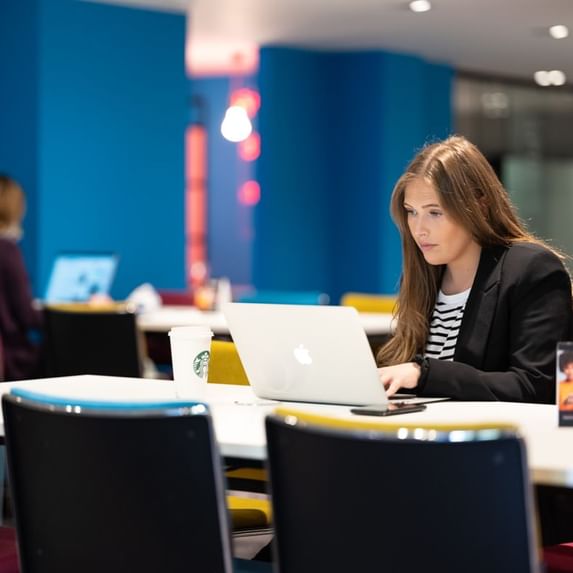 GET YOUR FIRST MONTH FREE AT VWORKS + THREE GUEST PASSES
VWorks Coworking is perfect for people who like a bit of flexibility in their work life.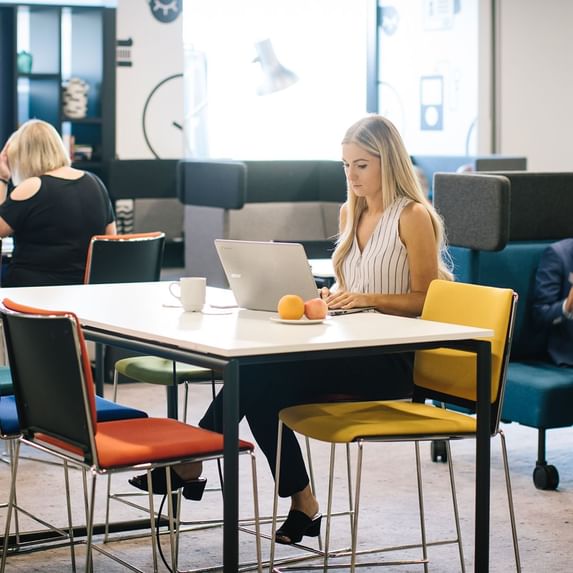 VWORKS: BRING A FRIEND FOR FREE
A VWorks member opportunity not to be missed! Bring a friend for free to our VWorks co-working spaces from now until 31-Dec-2023, and say 'How you doing?' with our member referral offer. Existing VWorks member also receives a £20 voucher while your friend can enjoy a free trial in VWorks and 50% off their first month's membership should they join.
This offer is available in a range of selected hotels. Please choose at which one you would like to book.
REFER A FRIEND & GET REWARDED!
Refer a friend or colleague and we'll treat you to a £20 voucher & they'll get 50% off their first month's membership!
Refer a friend or colleague and we'll treat you to a £20 voucher & they'll get 50% off their first month's membership!
VILLAGE GREEN
We understand that a better, sustainable future is within our reach and we want to play a part in getting there. We strive to be responsible and sustainable members of the community, whilst acting as a hub for the local area, where people come together to work out, stay, meet, and play.
BUSINESS SENSE
We're your one stop shop for all your business needs. You can book corporate accommodation, group bookings, meetings, events and VWorks through our dedicated team at the Business Desk.Talk to the team by phone, email or live chat. Available Monday - Friday 8am - 6pm. It couldn't be easier to do business with Village.
V-Works does what it says on the tin
"
I'm a permanent work from home and Oldbury was having a scheduled power outage during a block of time. Not sure what to do I came across v-works and it ticked all the boxes. I worked before lockdown in VFX houses in London and it's not as glamorous as it sounds so I didn't need a lot or expect a lot - just a wide desk for the ability to have privacy as I work on NDA material and i good internet connection Came two days prior to check out the facility and a v works event manager showed me around and got back to me later that afternoon about the internet speed On the day I Came around 630 to get choice of desk and I was a bit early but when it hit 7 I was able to get a card and was let in early to set up equipment. Everyone was friendly and helpful for my first time There was chilled water and muffins later in the morning - I did happen to come during a v works appreciation week - so I know this wasn't the norm By 10am it was quite steady with a lot of people in the pod meeting rooms. Other VWorks people were considerate and no one was too loud or distracting. There was a coffee machine there and it was nice to work in air conditioning during the heatwave of 2022. I ordered lunch with my 25% off food discount and the staff brought it to the work station. The printer did look like it needed a good kick as it said low toner and a document was in the que (and this was 7am) but I didn't require printing facilities so can't comment further. It also felt like a secure enough space. Due to the last minute nature I had to bring a rather large tv instead of monitor (I know it raised a few eyebrows but you gotta do what you gotta do) I did later see there were lockers and wish I had asked to see them - but to my surprised a lot of people just left their stuff behind and trusted other v works colleagues I would say if you are in a position like me where you needed another source of power, privacy and internet- this place can do it It's not frilly and can understand some other grips if you are monthly or yearly members, I only wish I had time to use gym and pool facilities but if I'm ever in a jam again will certainly come back.
VWorks member at Cardiff
"
With the shift towards a hybrid working environment from the start of the pandemic, I found that Village VWorks Cardiff provides the ideal remote workspace. It's a light and airy professional working environment that is well served by the facilities it offers – fantastic WiFi connectivity, printing, hot & cold beverages with self contained meeting rooms when discretion or collaboration is needed. The Village Team ensures we are extremely well looked after and are able to fulfil our day to day duties without hindrance.
VWorks member at Cardiff
"
Hi Leighton,
A big thank you for the members week, it created a really welcoming atmosphere, and provided opportunities to strike up conversations with other members.
Hats off for showcasing the Village offering, and the arrangement – starting with the coffee on Monday and ending with the lunch on Friday.

Kudos also to Katie for handling the execution with gusto, providing great hospitality without feeling the least bit forced.

All the best,

Sam
VWorks member at Cardiff
"
As a Village gym member on and off since 2007 and now my first 12 months anniversary as a VWorks member, I would just like to add what a great facility it is for us remote workers. Leighton, Kate and Heidi are second to none in the way they look after VWorks and us members. The service is professional, friendly and I honestly could not praise them more. They are all an absolute credit to the organisation along with VWorks. I hope that it continues to go from strength to strength and you have my full support for a bi-weekly members event building on from the success we have seen this week for members week. I know having spoken to fellow VWorks regulars how well received it has been. Keep up the great work team!! #VWorkssharedworkingspace
VWorks VWorks member at Coventry
"
It had been good to use VWorks office in Coventry. Besides using it as an office, I have had ample time to network with office mates and made some friends and even business. Moreover, I know where to go and stay when I have breaks and holidays in London.

Even though I have an office in London, I wish I could find a place like VWorks.

Best

Fatih
Founder & CEO NewYox Ltd
Got a question?
Hopefully we've covered everything, and we can't wait to see you! But if you have a question, we're here to help…
Find more useful information about visiting our hotels.
Our dedicated Business Desk will be able to let you know when your VWorks membership ends, available Monday - Friday, email, call 01925 873285 or live chat now.
Yes, every VWorks site has a printer available for members to print, scan and copy documents.
 
No, VWorks members can enjoy free parking.
 
For extra privacy, meeting rooms and private pods are available for members to book, by the hour, half day or full day. Meeting rooms are chargeable and must be booked in advance. An exclusive 20% discount will be applied.
 
We would recommend our day passes. You can purchase a day pass for £25 per person, per day.
 
We do not recommend that you leave your belongings overnight. VWorks is a secure space, however, we do not take responsibility for members' items.

Our VWorks coworking space is available at 22 sites: Basingstoke, Bracknell, Bristol, Birmingham Dudley, Birmingham Walsall, Cardiff, Coventry, Farnborough, Leeds North, Leeds South, London Watford, Manchester Ashton, Manchester Bury, Maidstone, Newcastle, Portsmouth, Solihull, Southampton, Eastleigh, Warrington, Nottingham & Wirral. *Meeting pods are not available at Southampton Eastleigh. There are meeting and event facilities at all 33 Village Hotels.
 
As standard, VWorks is open 6am - 10pm Monday to Friday, however opening times may vary at some sites.
 
Only members with a valid gym membership or Platinum VWorks members (which includes gym access), can use the gym. All other members are welcome to use the gym but a charge will be applied.
 
There is a membership for everyone. Please contact us to discuss our current memberships or a bespoke VWorks package. Talk to our team or email us VWorks@Village-Hotels.com or call 01925 931489
 
Yes we do. Members benefit from an exclusive discount of 25% off your bill in the Pub and Grill. Platinum members receive 25% off food and beverage. Standard member discount of 10% applies for all other membership types
 
Every Village Hotel except Village Liverpool has a Starbucks - available for members to get their favourite hot drinks throughout the day.
Open Mon-Fri 7am-7pm / Sat 8am-6pm / Sunday 8am-5pm
Yes, we offer a corporate discount for more than 5 memberships. Get in touch with the team who'll be able to help vworks@village-hotels.com 
 
Yes, most VWorks sites have have private pods that can be used as office space on an hourly, daily, weekly or monthly basis. Please email vworks@village-hotels.com and let us know what you need.
 
Sorry, we're unable to allow members to use our business address nor do we accept post.