CANDICE BROWN'S BROWNIE RECIPE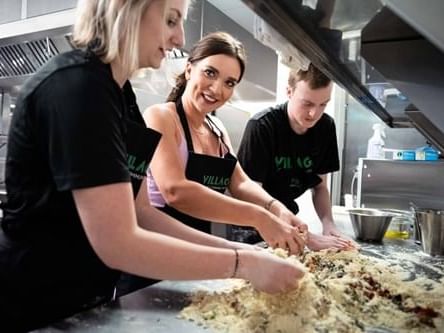 Our very own food and drink ambassador, Great British Bake Off winner Candice Brown, has shared one of her favourite recipes with us, so you can be your own GBBO champ!
We'd love to know how you get on! Why not tag us on Instagram @VillageHotels so we can see your creations.
Peanut butter, chocolate and hazelnut brownies
(makes 9 squares)
Ingredients
200g crunchy peanut butter
175g dark chocolate (minimum 70% cocoa powder)
275g dark soft brown sugar
25g unsalted butter
3 eggs
100g self-raising flour
75g chocolate hazelnut spread
Topping
75g blanched, chopped hazelnuts
50g dark chocolate (minimum 70% cocoa powder)
50g crunchy peanut butter
Method
Pre-heat the oven to 160ºC fan (180ºC/350F/Gas Mark 4).
Grease a 20cm square baking tin with high sides and line the base with greaseproof paper.
Put 200g of the peanut butter, 175g of chocolate, 275g dark soft brown sugar and 25g butter into a medium-sized pan over a low heat and stir until everything is mixed together and the sugar is almost dissolved.
Remove from the heat and allow to cool slightly, then add the eggs one at a time, mixing well in between each addition. The mix will be glossy after the eggs have been added.
Sift the flour over the chocolate mix and stir in. Pour the brownie mixture into the prepared tin.
Heat 50g of peanut butter in a small pan until warm, drizzle over the brownie mix. Dot the hazelnut spread on top. Use a sharp knife and swirl the top.
Bake for 25 minutes – they should be a little gooey inside. Cook longer if you want them a little firm, remove from the oven and allow to cool.
Roast the hazelnuts in the oven.
Melt 50g of chocolate, spread in lines over the brownie, sprinkle with the roasted hazelnuts.
When cool, remove from tin, cut into squares and serve.