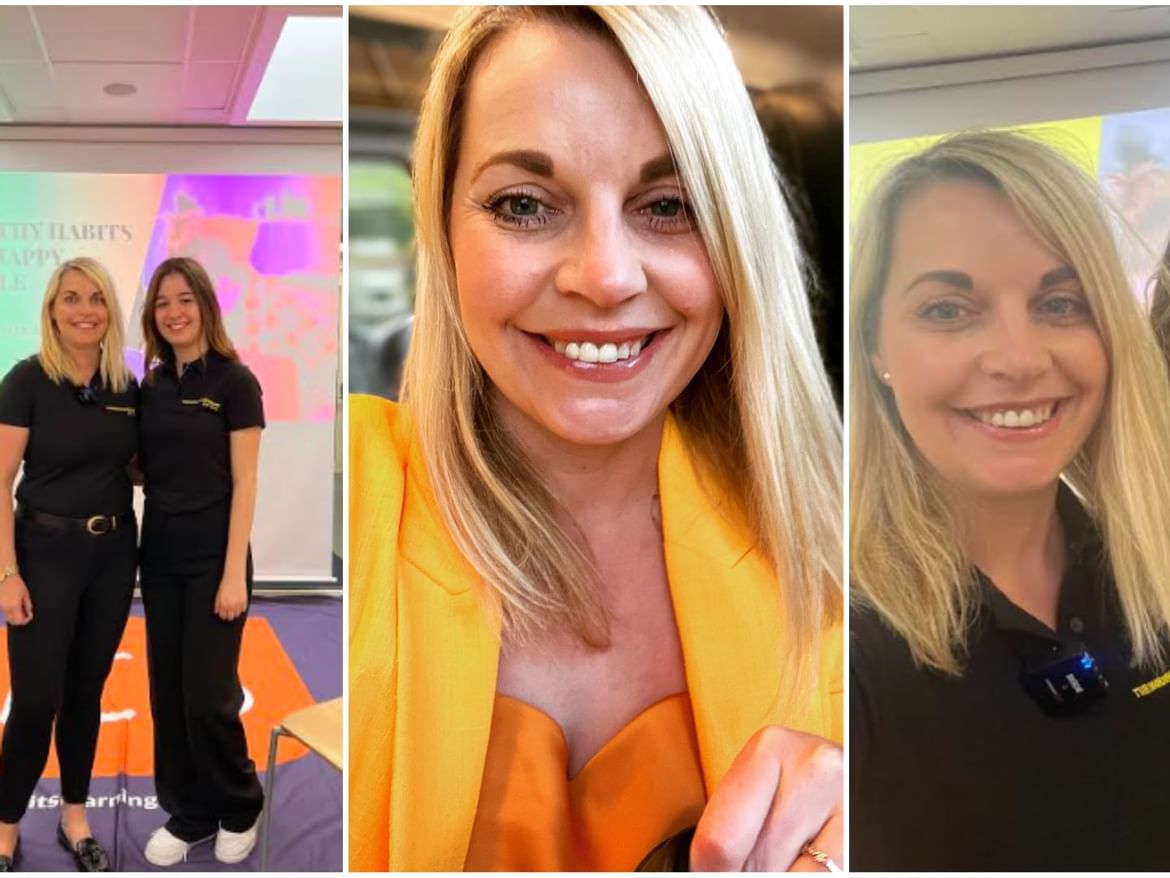 We are delighted to share our latest guest blog post from VWorks Coworking Space member, Kat. Kat focuses on how importatnt it is for leaders and employees to practise daily habits that positively impact happiness, health and performance. Take a look!
Life is a rollercoaster. There are so many challenges facing us every day from work related stress, family responsibilities to health issues. Burnout, anxiety and overwhelm are happening at an alarming rate.
Most people wake up and go straight into auto pilot mode. They are not intentionally mentally and physically preparing for the day ahead. The impact of this over time can be devastating.
I began my career as a teacher and got a dream job working across the globe for an educational technology company, where I climbed the ladder into different leadership roles. The work and home lines were completely blurred and I was constantly on. As soon as I woke up, I would jump straight into my phone, pumping my brain with stress, deadlines and overwhelm.
I used to believe that the harder I worked, the more successful I would be. I was working all the time and I eventually paid a very big 'life' price. I suffered a breakdown and lost my relationship, health, job and my whole world crashed.
Amidst all this chaos I was headhunted for my first CEO role and at the time I thought it was a good opportunity and the start of a new chapter. I accepted the role but quickly realised that history was repeating itself. I was working all the time, always on my phone, not relaxing or sleeping enough and using coffee and energy drinks to keep going.
Turning the organisation around felt like an impossible task. But I believed that it was possible. I believed it was possible, started to visualise what a flourishing organisation could look like and wanted to be able to take steps each day to ensure this happened.
But I felt that I didn't have the strength each day to tackle the challenges being thrown at me, both professionally and personally. I had always let my day run me. Most of us know the things that power you up, like exercise and reading but you don't do them because you haven't got time for it. You get to the end of the day, you are absolutely exhausted, there's no way you are going to make it to the gym, you order some fast food, and you give your absolute worst to the people you love the most. And that for me, was the moment when I realised that I was not going to make this mistake twice in my life.
But how do you have it all? I changed my morning routine to a ritual of activities that would set me up for the day. I started waking up at 5am to exercise (for the first time in my life), watching positive videos rather than scrolling and dedicating time to personal projects. I felt more motivated, alive and stronger than ever before.
This was the catalyst for launching my company The Morning GameChanger in 2021. It is critical now more than ever for leaders and employees to practise daily habits that positively impact their happiness, health and performance.
As a healthy habits teacher and consultant, I work with organisations around the world to improve employee wellbeing. I teach positive habits through interactive keynotes, sessions and masterclasses to employees working within the education, technology and hospitality sectors.
Making small, daily changes to your habits, especially how you start your day is the most impactful way to improve the wellbeing of you and your colleagues.
Find out more about The Morning GameChanger and keep up to date with Kat's journey here.