SUMMER SPECTACULAR: A VILLAGE HOTELS ROUNDUP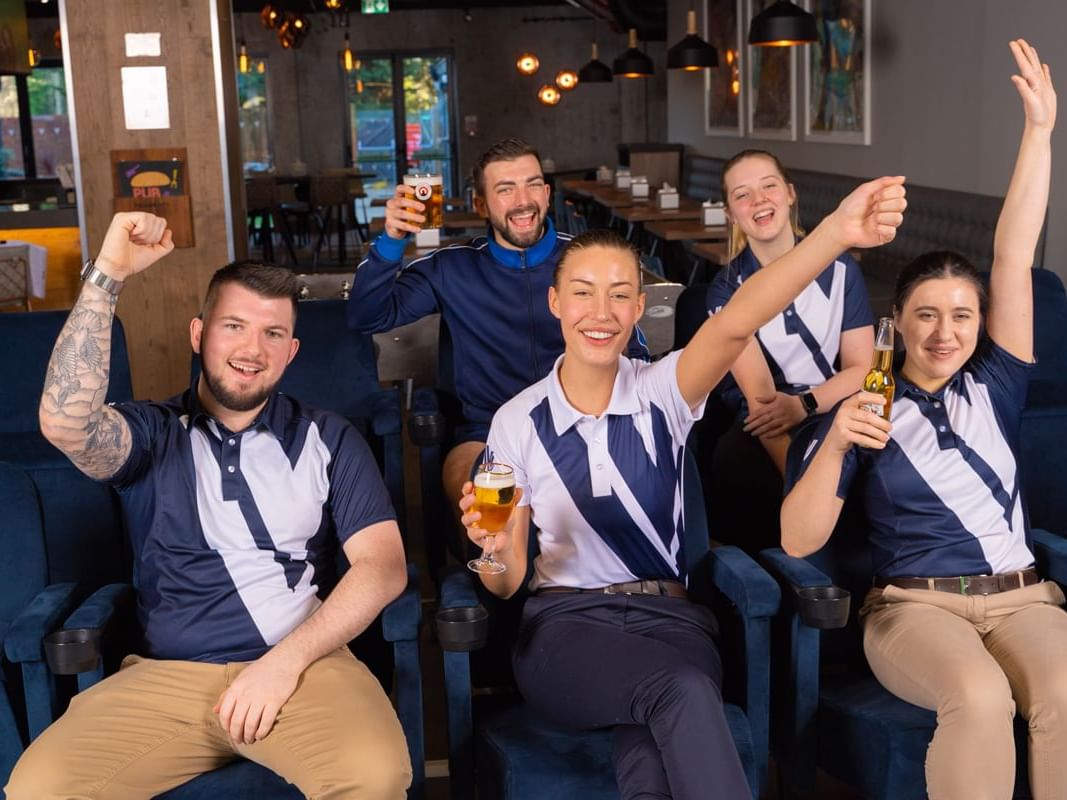 Things have been heating up in the Pub & Grill
What an incredible summer we've had in the Pub and Grill! We were thrilled to be official sponsors of the Betfred World Match Play Darts and BOXXER, not to mention the excitement of the Ascot Summer Mile. And guess what? You've been right there with us every step of the way. Our Pub & Grill has been buzzing, and we've poured a whopping 661162 pints over the summer! Cheers to that.

Discover Your Go-To Nutritious Bowl
Our nutritious bowls have been a hit from the very beginning. Filled with wholesome ingredients, packed with proteins, vitamins and delicious flavours! A treat for your tastebuds and a boost for your mind and body too. It's the perfect lunch after hitting the gym or to keep you productive on busy office days. Our most popular nutritious bowl over the summer was Get Shredded a delicious bowl Fajita shredded chicken, served on brown, red and
black rice with cucumber, avocado, black beans, roasted corn and tomato with sour cream & salsa. Will this be your next new try?
Village Health + Wellness Club - The Ultimate Gym Class
Village Gym offers a spacious fitness playground packed with top notch kit, the latest fitness classes, heated swimming pools, saunas and steam rooms! Our gym classes have proven extremely popular from Combat and Tai Chi, to Yoga and HIIT. We have something for everyone! This summer's sensation was indoor spin! Why not find out what the hype is about and spin your heart out with a variety of indoor cycling workouts and smash those fitness goals!

The Hottest Party Night in Town

At Village we know how to party and so do you too! We've had a summer full of our unmissable legendary party nights. All summer we have danced till dawn at our schools out for summer disco, twisted back in time with retro discos, listened to the best tribute nights around and danced the night away to our boogie bingos – where moves meet wins! This summer our most popular party night was our Skools Out for Summer Disco, followed by Retro Decades Disco and Boogie Bingo. Why not give one of our renowned party nights a go this coming festive season. Get ready to jingle those baubles and embrace the festive spirit!

Revamping Blackpool: A Renovation Story
Village Hotel Club Blackpool has long been a seaside favourite for guests. With indoor and outdoor pools, plus an 18-hole golf course and extensive health and fitness club. It's clear why this hotel is one of our most popular! And over this summer it's gotten even better. Extensive refurbishment plans are well under way with all 175 rooms receiving a modern makeover with new bathrooms and family bunk bed options. These snazzy rooms are being rolled out from July to early 2024. But wait, there's more. In September 2023 we will be unveiling our brand new Helter Skelter buffet restaurant for a fun family dining experience. Guests can choose from a range of freshly prepared family favourites, Village classics and more! Not to forget the popular Pub & Grill also welcomes a brand new beer garden, serving delicious food and drinks overlooking the golf course for al fresco dining. Add Village Blackpool to your bucket list, you definitely won't be disappointed.
The biggest hits in Starbucks
With our very own Starbucks you can get your caffeine fixes without leaving the building! Whether you're into frosty frappuccinos, bold black Americanos, or zesty refreshers, our Starbucks has been a hit since day one. This Summer's superstar sip was none other than our iced brown sugar shaken espresso. It's like a caffeinated dance party in your mouth! So, the next time you're in need of a caffeine boost, why not live on the wild side and give it a whirl? Your tastebuds will thank you later!
Our new charitable partnership went into a spin
This summer at Village Hotels was not just about sports and fun, but also about making a difference. In support of the charity Sense, all hotels up and down the country participated in a nationwide spin4sense event. Members took part in a unique spin class like no other. They brought their sunglasses, covered the lenses and experienced a spin class with no sight. A massive £2,568.98 was raised and went towards helping thousands of people who are deaf, blind and have complex disabilities.