EASTER HOLIDAYS 2023 - DESTINATION INSPIRATION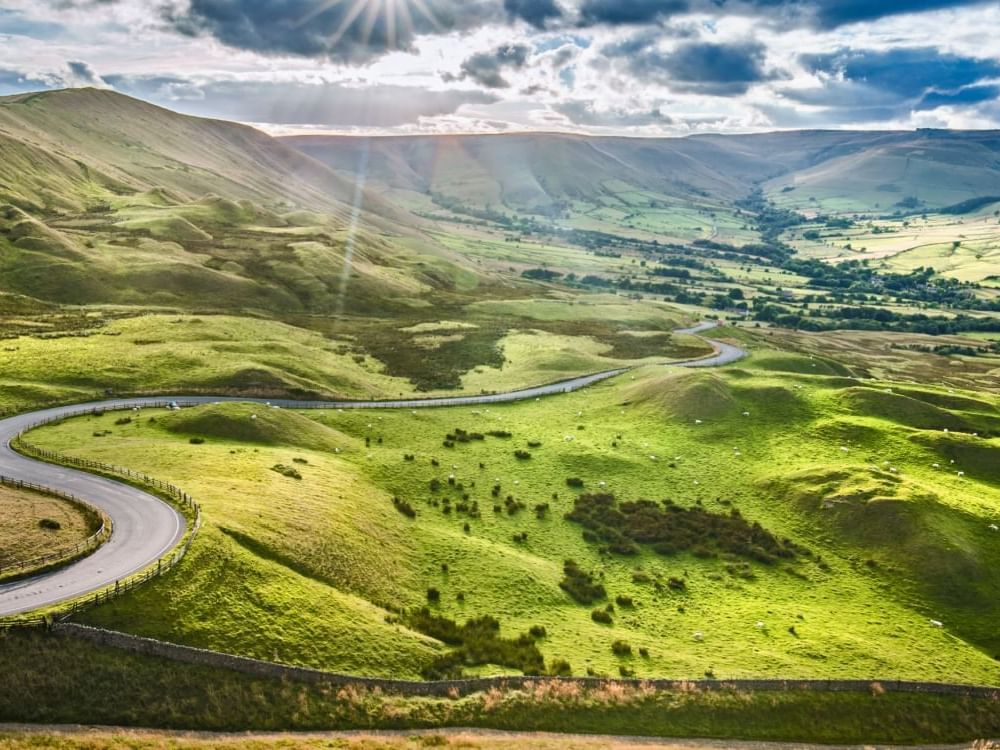 Due to the cost of living crisis, many people are looking to save on cash where they can. A UK staycation is a great option for people looking to keep costs down. You can save your pennies without worrying about air travel, new wardrobes, or currency exchange.
Plenty of places in the UK make for the perfect staycation destination. Here are four perfect locations for your Easter bank holiday to give you some inspiration!
1. Glasgow
Starting with bonnie Scotland, the vibrant city of Glasgow is perfect for a weekend break. There are plenty of activities to do – many of which are free.
Glasgow is famous for its great museums. Kelvingrove Art Gallery and Museum is a firm favourite with visitors and locals alike. It's home to the great masterpiece 'Christ of St John of the Cross' by Salvador Dali and much more. Or, you can learn all about the history of transport at the Riverside Museum.
Another free option is to simply explore the streets. Glasgow has a mural trail that takes you the length of the city. Each mural was painted by a different artist with a different muse. You can easily spend a day walking through the city, spotting murals as you go.
2. Manchester
Moving to the north of England is Manchester. Not only is this a great city, but the surrounding area is beautiful to explore.
One area you must visit is the Peak District National Park - not too far away from our Manchester Hyde hotel! You can travel their famous trails on foot or by bike and breathe in the fresh air. Spending time in this park is completely free, with the exception of a few car parks.
On the other hand, the city is also full of free entertainment. With several museums and galleries across the city, you'll never be short on something to do.
3. Swansea
Over in Wales is Swansea. This city sits right on the Welsh coast, making it perfectly picturesque.
One area you'll want to make sure to visit is Swansea Beach. This beach is beautiful no matter the weather. Whether you're just looking for a walk on the sand or to build sand castles, you can relax on Swansea Beach. You could even count the boats in the marina or, if you're brave enough, take a dip in the sea.
However, it's not just the coast you can walk along. Further inland lies the Kilvey Hill Trail. This trail will take you to the perfect advantage point above Swansea for glorious panoramic views.
4. York
In the country's northeast sits one of the UK's most scenic cities. This quintessentially English town is full of history you can easily spend a weekend discovering.
York is surrounded by ancient medieval City Walls that stretch over 2 miles long. It's the longest town wall in England and is a great way to see the city. What's more, this privilege is entirely free.
While you may have to pay to enter other historical sites such as York Minster or the Yorkshire Museum, simply admiring their architecture and surroundings is completely free.
One attraction that has no entry charge is York Observatory. Although opening times can vary, you can learn all about astronomy from this telescope, then take a leisurely walk in the observatory gardens.
Get the most out of your Easter bank holiday
With all of these Easter bank holiday ideas, you're bound to have a great time. You don't need lots of money to have a great holiday; there's plenty to explore right on your doorstep!
These four cities are just a few examples of what the UK has to offer. To explore more amazing cities, view all of our Village Hotels locations. With everything you need under one roof, you can relax this Easter break. For the ultimate stay and up to £25 worth of free extras, sign up for the Booking Revolution today.