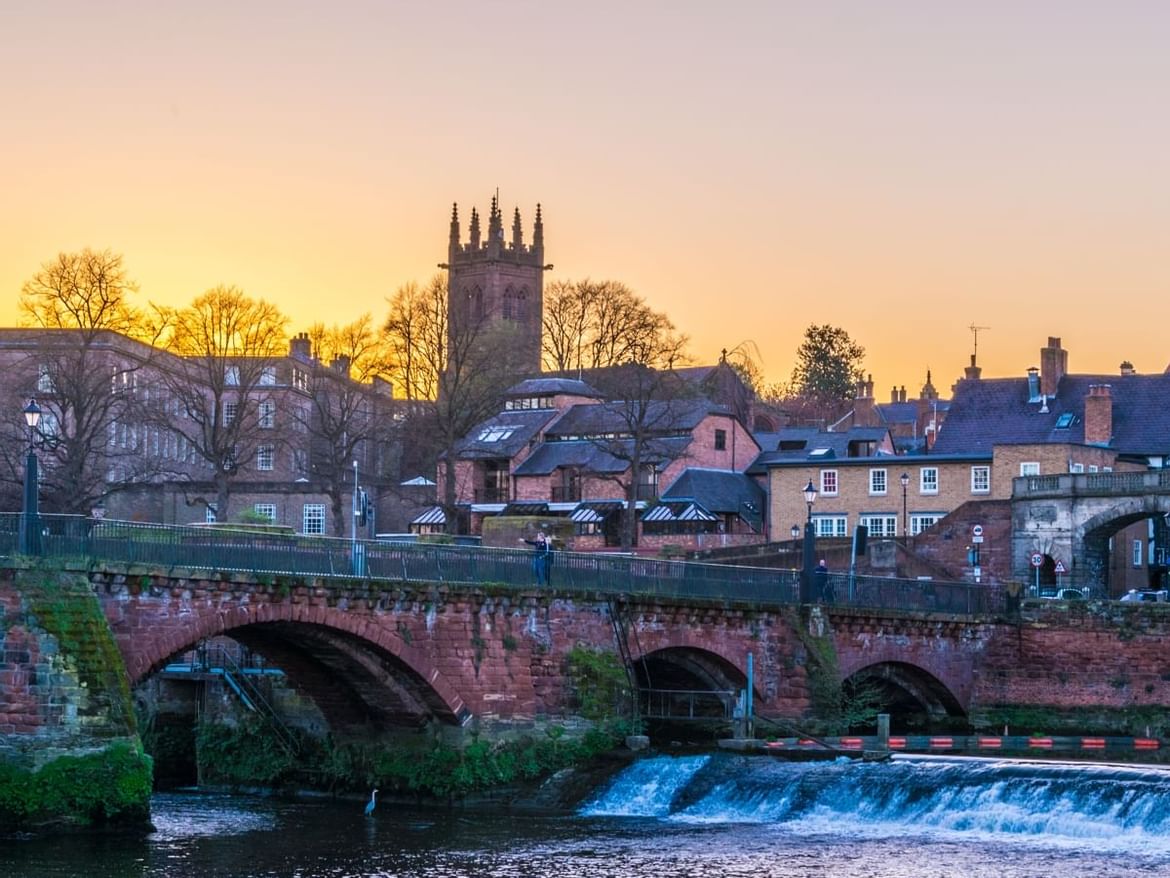 Winter is a great time for a break away! Cosy knits, delicious food & drink, awesome attractions and lots of quality time together. What could be better? If you need some inspiration to fuel your winter wanderlust, you've come to the right place! We've taken a look at some of the best places to enjoy a winter break. Take a look at our winter breaks guide.
Bracknell
Hold onto your hats... you're in for an incredible ride! Are you ready to discover Bracknell? With theme parks, zoos, sealife, forests and more to explore you really are in for a treat! Our brand new hotel is ideally located to some of the best family attractions in the UK; Ascot Racecourse, Legoland Windsor Resort, Coral Reef Waterworld, Windsor Castle and more. There really is nowhere better for families! After a fun family day out, you're going to need a comfy bed for the night.
Village Hotel Bracknell is an incredible choice for families.
Blackpool
You may think that seaside resorts go into hibernation after summer, but not Blackpool! Blackpool's seafront comes alive every autumn, thanks to the Blackpool Illuminations. Tourists and locals alike, gather to marvel at the world famous light shows, tower projections, illuminated trams and fireworks. It's completely free of charge to walk or drive through the illuminations, making it a great day out for the whole family.
Village Hotel Blackpool is a great family friendly location, right near to some of the best attractions!
Cardiff
Some of us like to take a weekend away to enjoy a historic town, others look for a place to go shopping, and some of us prefer to book a city break for a night on the town. The Welsh capital of Cardiff is the best place to enjoy a warm welcome. For sports fans, the Millennium Stadium and Cardiff City Stadium are in the area, or if you prefer exploring, head to the city centre where you'll find the fascinating Cardiff Castle where you can learn about over 2,000 years of history. Further afield, there's Cardiff Bay - perfect for a bike ride or relaxing walk. See if you can spot Roald Dahl's famous Crocodile - the perfect family seflie opportunity.
If you're planning a Cardiff break away, look no further than Village Hotel Cardiff.
Coventry
Coventry is a fantastic destination for a winter break! There's so much to keep you entertained - interesting museums, historical landmarks and cathedrals, and stunning green spaces too, making it a great location for a city break. If museums are your thing, you'll be spoilt for choice! Coventry is home to the world's largest collection of British road transport, Coventry Transport Museum. Petrol heads will love exploring the history of Britain's vehicles. Don't forget your dancing shoes, because there is also the multi award-winning Coventry Music Museum which celebrates music through time. Coventry is famous for the rise of 2-tone and ska music, so the museum is a must-visit if you're nearby!
Book your break at Village Hotel Coventry.
Chester St Davids
Chester is one of those places where every era of British history is reflected in the town itself. You can go as far back as Roman Britain, take in the iconic Tudor style houses and stand alongside Roman amphitheatres and Saxon era castles. Don't be fooled; this is a town that isn't confined to the history books! Visitors can enjoy a vibrant and diverse welcome, and places like the bustling town centre make for the ideal location to inject a bit of retail therapy into your trip! Great for those starting their Christmas shopping.
Book your Winter break at Village Hotel Chester St David's.
Swindon
If you want the perfect balance between the home comforts of a well-sized, interesting town and some of England's most beautiful countryside right on your doorstep, you will struggle to top a visit to Swindon. Lying in the heart of Wiltshire, Swindon is lucky enough to be sandwiched between two certified Areas of Outstanding Natural Beauty; the Cotswolds to the West and the North Wessex Downs to the South and East. Not forgetting, the incredible Bath Christmas markets is less than 50 minutes away. You'll find traditional artisan stalls, delicious food & drink and an abundance of festive cheer. Bath Christmas markets are on Thursday 24th November to Sunday 11th December. Don't miss out!
Village Hotel Swindon is a great base for those wanting to explore Swindon.