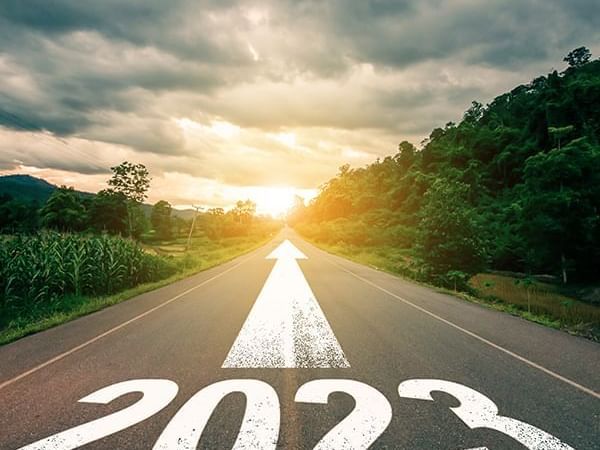 The new year has probably got you reflecting on your life, your goals for the year, and what you want to achieve in the future. No doubt you've set some resolutions for yourself, but we all know how difficult they are to keep. Fear not, a little attitude adjustment can go a long way to help you make 2022 your year!
Happy habits, happy days
If we want to be in full control our lives, we have to take control of our actions. It's the things we do every day, our habits, which add up over time, and shape the world around us.
One of these habits that can make a huge impact, is fostering a positive outlook. We've all heard about the power of positive thinking. But what does that actually mean in practice?
A quick way to get more positivity in your life is to write down three things every morning that you're grateful for. That could be anything from a business opportunity, a person you can always count on, or even the amazing meal you ate last night. Try to come up with three new things each day. This trains your brain to search for the positive.
Big or small, this kick-starts your day with a positive outlook that will continue through your day. You may be surprised just how effective this small habit can be.
Think big, act small
By all means dream big about that brand-new company you want to start, the promotion you're working toward, or major career change. But don't forget about small actionable steps that will help you get there.
The phrase "Rome wasn't built in a day" is thrown around a lot. But it's true, the small wins add up to help you achieve your big goals, and they'll keep you motivated along the way!
Keep your eyes on the prize
When everything's going your way, you feel positive, motivated, and ready to take on the world. But as you know, that's not always the case. Maybe something didn't go according to plan, you lost an important customer, or you just woke up on the wrong side of the bed! It happens, you're not alone. This is the time when you must remind yourself what you're working toward, so you can see the light at the end of the tunnel.
One way to break the cycle of a bad day, is to get out of your head and into your body. Exercise not only keeps your body strong, but your mind too. Getting those feel good chemicals flowing in the morning can kick-start your stay and give you a sense of achievement, before you've even reached your desk.
Surround yourself with like-minded people
If you're on a certain path in life, it helps to have people along on the journey with you that share a similar mindset. Surrounding yourself with others that you can learn from, and share with, can help your ideas flow, and offer you a fresh perspective you may not have got otherwise.
Shared workspaces such as VWorks at Village, offer the perfect opportunity to meet like-minded people; a space to work, meet, think and connect. So if you're looking for a new space to be inspired in 2023, this could be just the thing to set you along your path.
Get set for 2023
Whatever your business needs, we have everything under one roof - inspiring spaces to work & meet, comfortable bedrooms, Pub & Grill, Health & Wellness Club and your favourite Starbucks! Find out more about Village for Business.
About VWorks Coworking Space
VWorks Coworking spaces are ideal for flexible workers. Our convenient locations across the UK mean you can work on the road or closer to home, with hot desks and private meeting spaces and the tech you need to get things done, ensuring you have a productive day at the office wherever you are. Complimentary refreshments will keep you energised and our flexible memberships and day passes mean there's a VWorks option that works for you whatever your needs.