IDEAS FOR A RELAXING AUTUMN ESCAPE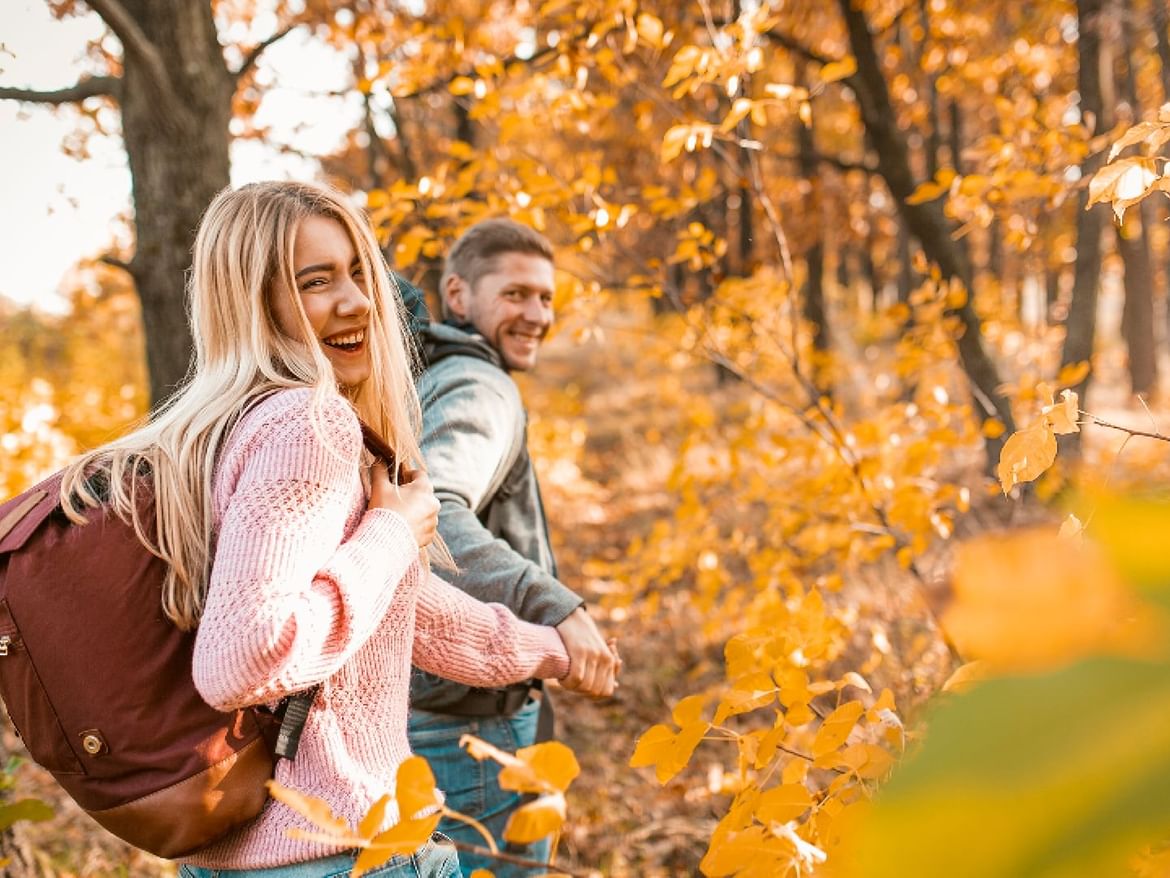 As the weather changes, the leaves turn orange, and the dark nights roll in, you might feel the need for a cosy autumn break. Village has so many locations across the UK you won't have to travel too far for your perfect getaway. The best part is that a staycation means no long-haul flights are required!
With an autumn stay with Village, you'll be able to get a day full of fall activities before retiring to the pub and grill for a lovely dinner and a warm bed to fall into.

Carving out your perfect day
The perfect autumn always starts with pumpkins, whether pumpkin carving, decorating your house, or pumpkin picking. There are many pumpkin patches spread across the UK that are perfect for your day out.

The whole family will enjoy a day down at Clearwell Farm. Just a short drive from the Cardiff Village Hotel, a day of adventure is at your fingertips. This autumn season, you can pick from a variety of pumpkins in every size and diverse range of colours. The farm will transform into a weatherproof pumpkin festival. Once you've got your pumpkin of choice, you are free to carve it at Clearwell Farm, so there is no need to worry about the fun stopping until you're home.

So, when in Cardiff, ensure you book with Cardiff Village Hotel. Packed with history and excitement, you won't be short on fun; however, you'll always be able to relax in our pool facilities if you feel like escaping the inevitable British weather. Don't forget to order yourself a pumpkin spiced latte from the on-site Starbucks!

Autumn walks
There's nothing better than wrapping up and getting outdoors to embrace nature in autumn. Across the UK, there are many beautiful parks and trails that are refreshing this time of year. If you opt to visit Newcastle, you'll find one of the best.

Newcastle is known for being a lively and friendly city, but some people overlook its stunning parks and green spaces. The 18 acres of beautiful scenery found at Silverlink Biodiversity Park is the perfect place to discover Newcastle's tranquil spaces. Visitors will discover it's full of diverse wildlife, including multiple ponds throughout while walking through the 1.9-mile loop. It makes for a nice way to spend a few reflective hours of your day.

Our Newcastle hotel is less than 5 minutes from the park, which means you can round off the day with a soak in our on-site spa facilities, before settling into a comfortable bed for the night.
Spooky season
If you're more into filling your days with horror, then there's only one place to be this Halloween. Manchester is back with its scariest event to date.

Venture out at night to Manchester Scare City, which is back for another year. Completely selling out previous years, it's a must-do when planning your perfect spooky night. The experience uses both set design and live actors that will give you the fright of your life! This year, it's hosted in Chorley at the abandoned Camelot theme park.

Our Manchester Bury Village Hotel is the ideal base between Chorley and Manchester! Have a filling breakfast, a trip to the gym, or a stroll around the city before setting out at night to Scare City. The interactive horror attraction will have you running back to your Manchester Village Hotel to hide under the covers!

There is plenty to explore across the UK this autumn, and Village is on hand with plenty of places to call home for a night or two! You're never too far from a new place or experience! However, if you prefer to unwind and relax, the restaurant, bar, gym, and pool facilities are always available.

If you're thinking about staying with Village, remember to take advantage of our Love Your Weekend offer and don't forget to join the booking revolution today!