NEW YEARS EVE - TYPES OF PEOPLE YOU SEE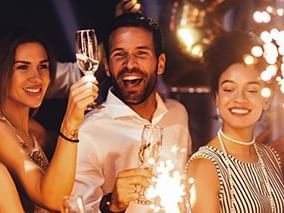 It's often said that New Year's Eve is about new beginnings, wearing a fresh outfit, rocking a new hairdo, and getting ready to party like you've never partied before. However, some things never change, including the types of people who show up to party. We've taken a look at the twelve types of people you're probably going to recognise at this new year's bash, and we're sure you will find that one sounds a little bit like you too.
The shot pusher
You know the one, you ask for a small wine and they return with 9 jaegers because they were on offer (internal scream). They can usually be heard shouting 'Come on, it's only one!', except it's never only one is it? Before you've even downed the last shot they're back at the bar for the next round.
The DJ
No, not the actual DJ… That friend who has been up at the decks all night, begging to hear another one of their favourite tunes.
The one who always disappears
You turn your back and they've gone, but you're not worried because you know that they're going to return hours later carrying a questionable blow up instrument and a hat you're sure they weren't wearing earlier. Where do they even go?
The dancing queen
Every song is their jam. They can dance. They can jive. They're having the time of their lives. They're up on the tables, arranging dance offs, and they spend the evening trying to get everyone up with them. There's just no stopping the dancing queen!
The excited one
You can hear this one before you can see them, their 'WOOOOO's ring in your ears all night long. When you finally see them, they are usually wearing a party hat, an outfit that is 99% glitter, and carrying a couple of balloons. They are excited and they're ready to let you know about it!
The joker
We all know someone who loves a good old dad joke, and New Year's Eve really is their time to shine. Get ready for the 'see you next year' puns because they're going to say it to everybody they bump into before midnight. Oh, and they're probably going to follow up with something like 'I can't believe I haven't seen you since last year' as soon as the clock strikes twelve.
The emotional one
There is always one who is sad because the year is over, fretting about their resolution, or gutted because they couldn't bag a date. The drinks are flowing and sadly so are their tears, sometimes it's because they're just feeling too happy. It's all very confusing!
The social media queen
This one parties through their phone. Their story is a feature film of your night... The drinks, fireworks, a couple of selfies, and... Oh did you just fall over? You guessed it, they snapped that too! Let's face it if they haven't snapped, filtered and created a hashtag then did it even happen?
The one who doesn't make it until midnight
This type has usually been the most excited to party, they've spammed the group chat for the past few weeks prepping your party plans, but when you see them wobble at pre-drinks you just know they are not going to see the night through. They insist that the show must go on, only to sip on a little too much fizz on arrival, leaving you with no choice but to force them into a taxi home, before the clock has even hit 12!
The responsible adult
They spend their days stressed at the chaos that is your life, but New Years' really has them feeling like a primary school teacher on a school trip. They stop you from texting your ex, make sure the bar tab gets paid, and even remind you to drink water after your night out. Ultimately, they spend their night trying to take care of everyone!
The glitter lover
The glitter lover has waited all year to get their glam on. They could give a glitter ball a run for its money, with their shiny outfit, shimmering eyeshadow and glitzy accessories. They are the most glamorous one in the room, but being so sparkly comes at a cost… They're leaving a trail of sparkles everywhere they go and you're definitely going to find glitter in the most random places in your house for the next two months at least!
The timekeeper
This one is on the ball, their eyes have been fixed on the clock all night and they can let you know how many seconds there are to go until midnight at any given moment. There isn't a chance they are going to let anyone miss the big moment because they've been ready to kick off the countdown since the moment they walked in.
So, there you have it - the ten types of people you're sure to bump into this New Year's Eve!
No plans for New Year's Eve?
Book your celebration at Village - theres 33 hotels to choose from.
Dance the night away at the Pub & Grill - tickets are just £20, including a buffet and entertainment or see your favourite tribute act live at the Inspiration Suite. Find out whats on and book here.